Father Leo's Corner
Chaplain at the Museum of Family Prayer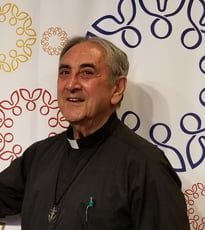 The Second Sunday of Easter
Divine Mercy Sunday
The memories of Holy Week and Easter Sunday are still with us, but we are also moving on. No longer will we focus on the tomb being empty but instead about the appearances of Jesus to different groups of people after he rose from the dead. We heard some of those examples today; his ability to pass through a locked door and join his disciples who sought refuge in an upper room. We heard about his encounter with Thomas who needed proof to believe.
In addition to the different post resurrection stories, we also have an account from the Acts of the Apostles today of how the early Christians banded together, helped one another, shared their resources in common and enjoyed the presence of the apostles who witnessed for them the events and significance of the resurrection.
As wonderful as the writer made it sound the community was not without its problems and detractors. That is an important point to keep in mind. What we have here is a description that is holding up an ideal. As we hear more from the Acts of the Apostles we will learn of the problems and blemishes in that community like what we see in many communities and families today.
What followed the death and resurrection of Jesus was chaos and fear among the early believers. In fact, in today's gospel we see a portrait of disciples who are at a loss to understand what happened to the body that was in the tomb. Mary Magdala told them she had seen Jesus, but they did not believe her. They were fractured and frightened. They sought refuge and locked themselves in a room.
We are told that Jesus entered the room passing through the locked door where they were hiding. We heard that in seeing Jesus they were filled with joy. It is difficult to imagine how their joy manifested itself knowing that as a group they were despondent, fearful, and in mourning.
Jesus spoke and simply said, "Peace". That is all they needed to hear at that moment, a gesture of love and compassion that assured them that all would be well; an offering that only Christ can give, and the world cannot give.
Those gathered in that room that day had heard him on other occasions preach the beatitudes, among them blessed are the poor, the meek and the persecuted. At that moment they now understood what he had been teaching and were now able to receive what he offered.
We heard St. John tell us that Jesus breathed on them and said, "receive the Holy Spirit". Emptied out by their ordeal and with the breath of security knocked out of them, they were ready to receive what only Jesus could give, love, trust, mercy, his Spirit, his belonging to God.
Jesus spoke a word to them that we so desperately need to hear today, Forgive. Forgiveness was the power that enabled Jesus to transform his horrible death into something good – our redemption and the forgiveness of our sins. Forgiveness is an expression of love. Forgiveness has the power to change ourselves and others.
In sharing these resurrection stories, we begin to realize how much we have in common with our ancestors in the faith. Like Thomas many today still need proof to believe. We have that proof, and it was detailed for us in the opening prayer at this mass when I prayed:
"God, ignite once again the faith of the people you have made your own. Increase the love and power you gave to each of us at that baptismal font when we were washed in the waters of baptism and anointed priest, prophet, and king. Renew once again our understanding of the power we received when you breathe upon by us and the Holy Spirit rested upon each one of us. Help us never forget that you had to die so that your blood would cleanse us of our sins."
We make this prayer through our Lord Jesus Christ, your Son, who lives and reigns with you in the unity of the Holy Spirit, God, for ever and ever. Amen