Father Leo's Corner
Chaplain at the Museum of Family Prayer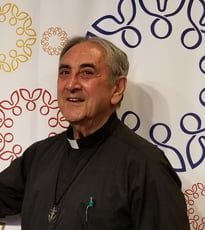 Fratelli Tutti–Brothers All
Homily Given October 5, 2020
What must I do to gain eternal life? A young man approached Jesus and asked him this question. Jesus wanted to know what the young man believed and asked him, and the young man said, "I must love God with my whole heart, with all my mind, all my strength and my neighbor as myself."
This question is on the minds of many people today who sincerely believe in God and are trying to follow Jesus. In answering the young man Jesus felt it important to explain more fully what loving ones neighbor implied and he proceeded to tell him the story about the Good Samaritan, the story about a man who was robbed and who helped the man and who didn't.
Who is my neighbor? It seems to me that if Jesus is telling us that loving one's neighbor sets us on the road to gaining eternal life that we would want to examine what this could mean.
Our Holy Father Pope Francis addressed this very concern in a letter he shared with all of us this past Sunday on the Feast of St. Francis of Assisi. He writes, "when we truly love our neighbors, we are contributing to the rebirth of our communion with every person always and everywhere. If the dignity of a person with disabilities, those experiencing poverty or lack of access to education is threatened, fraternity, love of neighbor will remain just another ideal".
He speaks of dark clouds that exists among us today that block our efforts to reach out and truly care for one another. He goes on to name some of those dark clouds, the Corvid 19 pandemic, threats to the dignity of migrants, loss of love of wisdom and yes abuse of technology.
Are we prepared to accept what our Holy Father is saying to us today about what it means to love our neighbor? Jesus shared his example with us and today we have the Vicar of Christ on earth sharing his convictions about what it means to love our neighbor.
The heart of what our Holy Father is saying in his letter Fratelli Tutti, Brothers All, is a meditation on the same parable from Luke's gospel that Jesus used with the young man who asked about inheriting eternal life. It was the parable of the Good Samaritan. Pope Francis, expanding on what Jesus said, presents us with the basic decisions we need to make to rebuild our world and truly love our neighbor as ourselves
Our Holy Father spoke of a world today, God's Kingdom that is hurting and wounded. In the face of so much pain and suffering we are urged not to be among the robbers nor those who abandon the weak but to be GOOD SAMARITANS who bear the pain of other people's troubles rather than fomenting greater hatred and resentment.
When we can come to identify with the least among us, we will at last be Fratelli Tutti, Brothers of All.