Father Leo's Corner
Chaplain at the Museum of Family Prayer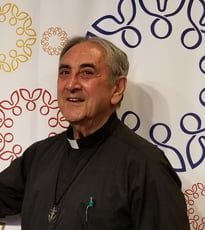 The Second Sunday in Lent
The God of Abraham, Isaac, and Jacob – The God of Peter, James, and John
How do I know? The question is asked in a lot of different ways these days. How do I know if the vaccine is safe? How do I know if belief in God makes any sense especially after listening today to the story we heard in the reading from the Book of Genesis? As a father, did Abraham really know if or why God wanted him to sacrifice his son Isaac? Ask most parents today if they would sacrifice their child and the response would probably be "No, I would rather it be me than my child."
No doubt there will be many interpretations about what the story really meant but one that I read made sense to me. It spoke of the progression from an understanding of God in the Old Testament to our understanding of God in the New Testament. There is quite a difference in the perception about how God is understood in the Old Testament and how God is understood in the New Testament.
For some the God of Abraham, Isaac and Jacob demanded unflinching obedience no matter the suffering it cost. The God of Abraham, Isaac and Jacob appeared to be an absolute ruler someone whose anger had to be appeased. From the account we heard it appears that Abraham thought this about God and accepted the demand to make a sacrifice of Isaac, his beloved son. But God stopped Abraham from harming his son. As much as God appreciated Abraham's desire to be obedient, he taught Abraham an important lesson. It is not sacrifice or burnt offerings that God seeks, but knowledge of God and steadfast love.
The God that stopped Abraham from completing this sacrifice is the God that Jesus knew and called his Father. The God that Abraham began to know on Mount Moriah is the God, as Saint Paul tells us, who took flesh in Jesus and intercedes on our behalf.
Abraham had conceived of God as someone who demanded sacrifice to make us acceptable. God as Jesus, wanted only to draw us into his divine life inviting us to ask, seek, knock and allow him to enter through the door of our hearts. God as Jesus is the God who is standing at the door with a lantern and declares in Revelations 3 verse 20, "Behold I stand at the door and knock. If anyone hears my voice and opens the door, then I will enter his house and dine with him and he with me."
Unlike Abraham, the apostles Peter, James, and John had a different experience when they encountered God on a high mountain. Like Abraham they too were frightened and did not know what to say once they experienced the dazzling light, the voice of approval that "this is my beloved son". Then Moses and Elijah arrived, two figures who represented the totality of Old Testament theology, and the apostles had to comprehend the meaning of Jesus words "to rise from the dead."
What were they to make of God who reached out to them? Who was this God that would share himself with them? They wanted to erect three tents, but those tents could never contain the totality of who Jesus was. In time they would come to learn that unlike Abraham, who was asked to sacrifice a son but his son was spared, Jesus the son of God would come to live among us and be sacrificed for us on a cross for the forgiveness of our sins.