Father Leo's Corner
Chaplain at the Museum of Family Prayer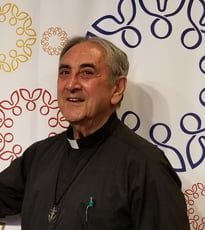 God's Call and Our Response
Second Sunday in Ordinary Time
Is that her? Is that him? Sometimes you will get that response from a passerby when they recognize someone who may be a television or movie personality. Those curious enough may hold back to see where the personality might be going and slyly begin to follow hoping not to be noticed.
Something like this was described for us today in the gospel. Two followers of John the Baptism spotted Jesus. I could almost hear them ask, is that him, is he the one who was baptized in the Jordan by John the Baptist? Do you think he was the one when coming out of the water a voice was heard from the heavens saying he was the son of God? John's disciples were curious, and they followed Jesus.
When Jesus realized he was being followed he turned asked, what are you looking for? You could almost imagine their surprise, their hesitation and then they blurted out, where are you staying? Jesus answered, Come and you will see.
Are we still curious enough to find out who Jesus is for us? I think we are, but we still have a lot of questions and sometimes doubts. Our questions and doubts have been multiplied by the pandemic and COVID-19.
What are you looking for? When Jesus answered come and see he knew that it would never be enough for us just to know him intellectually, to know him through what others had to say about him. Instead, Jesus knew that to really know him we would have to experience him, enter a relationship with him. We would have to accept him as a friend who carries us when the hardships of life make our journey to difficult to bear. We would have to learn to love him.
Quoting the saintly Jesuit Father Pedro Arrupe, "what you are in love with, what seizes your imagination will affect everything. It will decide what will get you out of bed in the morning, what you do with your evenings, how you spend your weekends, what you read, what you know, what breaks your heart, and what amazes you with joy and gratitude. Fall in love, stay in love and it will decide everything".
That is what happened to the two young men who followed Jesus home. They fell in love with who he was and what he represented. It was no longer a matter of looking for something from him but instead wanting what he had to offer.
The same happened to young Samuel when he realized that his call was coming from God and not from Eli. Samuel had chosen to sleep inside the temple close to the Ark of God. It would be like choosing to sleep in the sanctuary so that you could be close to the tabernacle. Eli on the other had was at a distance since young Samuel had to run to Eli and ask if he called. Samuel was young, persevered whereas Eli being older was slow to grasp what was happening but even though fatigued he was instrumental in guiding Samuel to listen to the Lord.
Like the two young men who followed Jesus and like young Samuel, we too are called by God. Each call is different but have common elements, learning from Jesus and sharing faith in him with others. The differences arise from the unique gifts and circumstances of our lives.
We can learn about what it means to be called from the individuals spoken of today in the Scriptures. Eli's fervor may have grown stale, but he was still there to assist young Samuel. Samuel was energetic in his response to God's call and persevered when at first he thought he was hearing things. And we, do we still think that Jesus has something to teach us or do we already know everything we need to know?
As we receive Christ in Word and Eucharist let us ask God for the light to discern how God is calling each one of us today.