Father Leo's Corner
Chaplain at the Museum of Family Prayer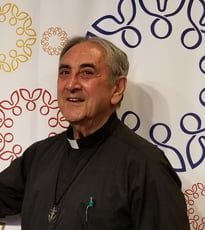 The Sixth Sunday in Easter
Let us love one another because love is of God
1 John: 4, 7-10
On Saturday I celebrated a funeral mass for a man who died a year ago but only now was the family able to celebrate his passing with a Mass of Resurrection and inter his remains. At the same time, I was giving some thought to a homily for the Sixth Sunday in Easter keeping in mind that we would also be celebrating Mother's Day.
When I spoke to the widow of the deceased and asked her to tell me a little about her husband, she mentioned some wonderful character traits: the fact that he was a practicing Catholic, grew up in a Catholic family, and had four aunts who were Franciscan nuns. I asked her if his aunts kept him in line and his wife said they did.
What really struck me is her last comment about his yearlong stay in a nursing home since dementia had set in. She said he may have forgotten who she was and probably others but when it was announced that mass was to be celebrated, he was the first one to head for the mass. You may be asking where is he going with this?
When I discovered that I would be celebrating Martin's mass I instinctively knew I had to share words about him that Pope Francis wrote about Saint Joseph in his Letter Patris Corde or With a Father's Heart. As I looked over the readings for the Sixth Sunday in Easter, I just knew Pope Francis words about love would also apply to the Sunday homily.
In the letter from Saint John today we heard him begin by saying, "Beloved, let us love one another, because love is of God". In that same letter he goes on to tell us how God revealed his love for us, sending us his son. He further tells us that God loved us first lest we think we loved him first. Love, love, love. The word is all over the pages of the Scriptures that we have for this Sunday.
In the gospel we hear Jesus say in John:15, 9-10, "as the father has loved me, so I love you, remain in my love". Remain in my love. Christ made it simple for us to remain in his love by telling us just two things are required, love of God and our neighbor. All else will follow.
Who is our neighbor? Observing the pandemic over the past year, Pope Francis in his letter With a Father's Heart, an ode to Saint Joseph, he wrote, "we cannot help but conclude that our lives are woven together and sustained by ordinary people, people often overlooked, people who do not appear in the headlines of our history, our doctors, front line and essential workers".
The Holy Father continues. "How many people each day exercise patience and offer hope, take care to spread not panic but share responsibility? How many fathers, mothers, grandparents are showing children in small everyday ways how to accept, deal with crisis by adjusting routines, looking ahead, and encouraging the practice of prayer, making sacrifices, and interceding for the good of all".
For Pope Francis, to love God includes believing that God can work even through our fears, our frailties, and our weaknesses. To love God asks that during the tempests of life we must never be afraid to let the Lord steer our course. At times we want to be in control, but God sees the bigger picture.
I drew additional inspiration from the Pope's words when he wrote, "as Christians, the path before us is not one that explains life but one that accepts life as it is with its contradictions, disappointments. Possessing the Holy Spirit's gift of fortitude, we can turn a problem into possibility by trusting always in divine providence".
Throughout our lifetime so many men and women have evidenced God's love within them. I'm reminded of the words of Saint Augustine who asked himself, as he drew closer to his own conversion, "what they could do, can you not also do".
Augustine, your mother Monica did it throughout her life and our mothers have been doing the same. On this Mother's Day we acknowledge them with gratitude and in prayer.