Father Leo's Corner
Chaplain at the Museum of Family Prayer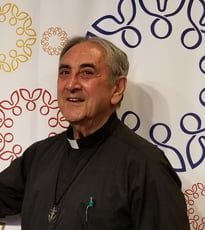 11th Sunday in Ordinary Time
We Walk by Faith and Not by Sight
For me, the hymn with those words is inspirational. It begins, "We walk by faith and not by sight, no gracious words we hear, from one who spoke as none e're spoke, but we believe him near. We may not touch his hands and side, nor follow where he trod, yet in his promise we rejoice, and cry, "My Lord and God!"
Some people seem to need a lot more tangible signs and proofs than others do whether it is about God or world events. I was reminded of this in an exchange I had with a nephew about watching an evening nightly news program. I expressed being quite content with a half hour program and straight news and he insisted that I was missing out on something by not tuning into the hour long programs and listening to the talking heads who dig in and pull out factual information that the half hour programs do not provide. We agreed to disagree.
I mention this because Scripture can be interpreted the same way either with the half hour approach or the full deal with interpretations from the experts. I have come to believe that walking by faith does not require the full deal interpretation that the experts provide. Case in point are the Scriptures at mass today.
I just loved the description that the prophet Ezekiel provided to us today of how God took a branch from the most majestic of trees and provided new growth. Walking by faith invites us to see ourselves as God's elect, God' s chosen, special in his sight. This is not to deny the historical references buried in this reading however walking by faith is opening ourselves to God speaking to us in any given moment and at any given time.
Ezekiel spoke of a branch planted on a high mountain and becoming a majestic tree, something that each one of us is in the sight of God. Not only are we singled out by God but we are told that others will branch forth from us and there will be a variety of trees that cover the mountain with different sizes and shapes, some providing shade and others providing cover for a host of species reflecting the diversity of humanity. It was evident to me that God cared for his earth and still does and is asking those of us who walk by faith to also care for our earth.
Walking by faith and not by sight enables us to hear these seed parables and allow our minds to conjure up what may be in the mind of God as he builds up the kingdom on earth and invites us to be his co-creators.
Picture a farmer casting seeds far and wide. The farmer in the parable does nothing more than plant. After that, everything mysteriously grows, God's doing and not ours. Fruits, vegetation to feed man and animal alike. Unfortunately, some seed that takes root is harmful and destructive as evidenced in the mustard seed which creates invasive plants that no farmer would admit to planting. Evil and destructive human seed is in evidence everywhere, but our faith assures us that God will do the sorting at the appropriate time so as not to destroy what is good along with what is evil.
To walk by faith will mean making choices. Will we choose to become engaged in the building up of the Kingdom? An if so how? Building the kingdom is a cooperative venture that requires, patience, understanding, and give and take. Here it would do well to remember the words of Saint Mother Theresa, "God did not call me to be successful; God calls me to be faithful. Walking by faith asks us to trust God beyond the limits of our understanding. We cannot always predict what the harvest will be, but we can count on God to give the growth.
Just remember, "in the winter far beneath the bitter snow lies the seed that with the sun's love in the Spring becomes the rose."