Father Leo's Corner
Chaplain at the Museum of Family Prayer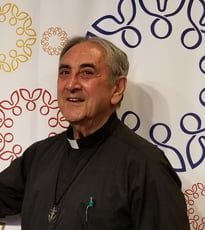 First Sunday of Advent
Homily given November 29, 2020
The Christmas lights are up, houses are decorated, and one hears few complaints about it being too early. In fact, some people started over a month ago. It was time to introduce some joy into our lives, provide some uplifting scenes to help us deal with lockdown and all the pain the pandemic has caused. Along comes Advent and it is here to add to our hope and joy. To lift us up.
Advent and adventure have the same root which means to come to or come toward and that's what we are about these next four weeks. Christ is coming toward us; Christ is coming to us and hopefully we will make the time and effort to at least meet him halfway.
Sometimes we hear an opening prayer at mass the words pass over us so quickly that we just about have time to take them in before we sit down for the Liturgy of the Word. Today that prayer was particularly powerful: GRANT THE FAITHFUL THE RESOLOVE TO RUN FORTH TO MEET CHRIST. There you have it again, telling us what we are about these next couple of weeks. Resolve to meet Jesus, to allow him to come towards us, to come to us. The Scripture readings provide us with the inspiration we need to take up the challenge to run to meet Christ.
Isiah points a picture of a time during his lifetime when his fellow citizens strayed and wandered from the road that led them towards God. He voiced what some of us can voice today how there was a time when we acknowledged the awesomeness of God, saw what he did for us and still turned a blind eye. He voiced the regret that some of us may have also voiced namely how wonderful it could have been if we had been more accepting of him, if we had been willing to meet him halfway. In our remorse we still acknowledged that we were clay in the hands of God and that he was the potter. How often he was willing to recast the clay and remake us into his image and likeness, but we just were not ready to submit.
Thanksgiving dinners even small ones are usually wonderful occasions to catch up on what's going on in one another's lives, the lives of family and friends. I was thrilled to get a phone call from a grandnephew in his second year of college who just wanted to say hello, it had been awhile since we communicated.
But at table Thanksgiving Day the discussion turned to Johnny and the question was asked did you see John lately. John was one of four brothers all who were relatively successful if judged as some were want to do by their financial success. John had it all and has lost it all because of his addiction to drugs. For some he is now a leper and not allowed to come physically close any longer. He is kept had a distance even before social distancing came to be.
In the mind of St. Paul today, the truth for Johnny and those of us here is that we have been enriched by God but as Paul also said, many of us have forgotten this. St. Paul went on to say that we possess within us all that we need to come to better understand Jesus. God is faithful, God is always reaching out to us, but we have to meet him halfway. My niece offered to reach out to Johnny when he called and asked to speak to her. He needed to talk to someone, to unburden his pain. She offered to bring him to a clinic, to rehab but he declined. He simply said, "I am not ready".
Johnny is an extreme case but there are people from all walks of life and professions who are suffering in silence, cut off from family, friends and co-workers even before the restrictions imposed by the pandemic.
God is offering all of us a gift today. Advent is his gift. He is prepared to come toward us, to come to us. Advent is like the experience of arriving at a railroad crossing in a deserted area when a signal has advised us to stop, look, listen, a train is about to come by.
This Advent Christ is coming. Listen and watch for his coming. That is what the gospel advised us to do today. Listen and watch but also act. Lift the gate that could be holding us back and run to meet him, halfway for starters and then all the way to Christmas Day.
As you run, seeing a mountain in your way, say to God, I've seen many of those before and climbed them – with your help.